Food Service
Are you planning to host a party? Or maybe you're in the food industry and need cooking equipment to help run your business. Whether you need items to cater for a large, public event, or for hosting a backyard BBQ, Deelat has you covered! We have a wide selection of high-quality food service products including small appliances, cookware, concession equipment, stainless steel BBQ's, and portable refrigerators.If you have a café, bakeshop, or catering business, Deelat offers everything you need ranging from coffee and tea equipment, chafer dishes, and steam trays. All items can be easily purchased and conveniently shipped, to have your next hosting event ready to go in no time!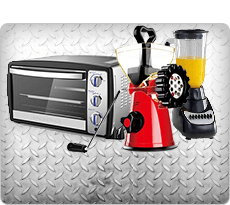 Appliances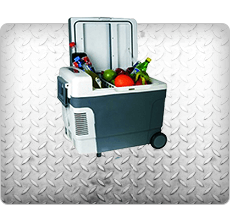 Refrigerators Freezers
Apparel

Chef Apparel

Food Service Aprons

Food Service Gloves
Beverage Centers

Beverage Supplies

Ice Wine Buckets

Kitchen and Bar Sinks

Beverage Bottles - Thermos
Deelat offers a wide range of high-quality beverage containers which are designed to meet all of your catering needs. Our stainless steel thermos pots offer exceptional insulation for keeping beverages hot or cold. Shop here for other top of the line containers as well including thermos lunch boxes, drinking jars, and water flasks.
Featured Products
$3310
SKU #D1143167
CMC Cast Iron Round Skillet--CJ029
This round skillet is the ideal economic and reliable addition to any kitchen. Constructed from cast iron, this essential item of cookware is of the highest quality and its strength and durability means that it will be dependable year after year. The iron ensures an even distribution of heat throughout the bottom and sides of the pan, making it ideal for a range of cooking applications including searing, browning and frying. This round skillet has a total diameter of 27cm and a weight of 2.3kg.
$4650
SKU #D1158657
3L High Quality Double Body Insulated Vacuum Thermos
Offering exceptional insulation, this thermal pump pot is lined with stainless steel. It is ideal for keeping coffee, tea and other drinks hot or cold. Able to hold 3 liters, it is further crafted with a removable lid and a wide opening for ease of cleaning.
$31095
SKU #D1010186
Hotdog Steamer & Merchandiser
The is ideal for any vendor needing to serve or sell a large quantity of hotdogs. The unit will hold up to approximately 160 hotdogs and 30 buns. The trays and removable parts allow for uniquely sized hotdogs and buns to be stored and cooked inside the steamer. This also helps when it is time to clean up! This steamer works perfectly for any company kitchen area, an outdoor company BBQ, family get-together, or at a sporting event.